HAPPY BIRTHDAY PUPPIES!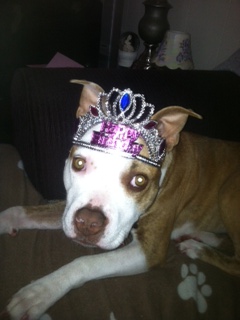 We cannot believe it's been a year since Mamas (aka Coffee) arrived at PAWS, very pregnant, and gave birth to her puppies two days later, Mother's Day 2011! All puppies were adopted out at 8 weeks old.
We received this great photo of Lacie, who is living a wonderful life with Erica and Ryan in South Jersey. We receive updates on the pups periodically, and are thrilled with the people who adopted them. HAPPY BIRTHDAY to Lacie, Max, Kimber, Russell, Nina, Ruca, Murphy and Benny!!!
Happy Puppy Days!
Click here for the story!