Pet Adoption in Montclair NJ for 41 years.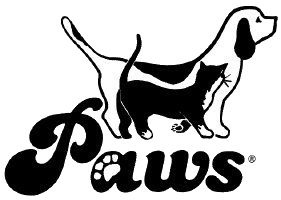 PAWS, (Pound Animal Welfare Society of Montclair, Inc.) is an animal rescue and shelter organization dedicated to the humane treatment of animals. We facilitate pet adoption for stray and abandoned cats and dogs in our community. Founded in 1977, PAWS has been serving The Township of Montclair, NJ and surrounding communities for over 41 years.
We are extremely proud of our pet adoption history.
PAWS has facilitated adoptions for vast number of animals over the years; successfully placing them with loving families. Many of these cats and dogs came from dire circumstances and were given another chance to share their lives with their new humans.
---
A huge thank you to Terrie Carr!
A huge thank you to Terrie Carr at 105.5 WDHA for inviting PAWS to appear on her awesome Rock N Ruff segment! We brought Scottie and Molly, two of our rescues, with us and they had a blast! Terrie, cameraman John and crew are all wonderful with the dogs, big advocates for rescuing animals (opt to adopt!), and made us all feel relaxed and welcome. Scottie will be featured on air and on line next week, beginning Monday, and Molly's the week after. Please check out them out at wdhafm.com
This week is Scottie's turn for his video to air - check it out!
---
A Big THANK YOU to the businesses that donated!
5 Brothers Bagels & Deli - Lincoln Park
5 Wits Cutting-Edge Adventures - West Nyack NY
Acme - Montclair
Adventure Aquarium - Camden
Ah' Pizz - Montclair
Allure Nails - Nutley
Alstede Farms - Chester
Anthony Roberts Hair Salon - Verona
Anthony Francos Pizzeria - Verona
Applebee's
Arlington Diner - N. Arlington
Artistry Hair Lounge - Pompton Plains
Athenian Fresh Grill - N. Arlington
Bella Luce Restaurant - Nutley
Bella Napoli Restaurant - Bloomfield
Boom Boom Chicken - Rutherford
Boonton Lanes
Brazen Athletics CrossFit - Fairfield
Brio's Tuscan Grille - Wayne
Caesars - Atlantic City
Carvel - Lincoln Park
Cheesecake Factory
Chevys Fresh Mex
Cloverleaf Tavern - Caldwell
Costello's Ace Hardware - Lincoln Park
Cowan's Public - Nutley
Cucina 355 - Nutley
DaVinci Bakery - Nutley
DePasquale the Spa - Morris Plains
Dick's Sporting Goods - Wayne
Empyrean Massage and Bodywork - Verona
Fit Female - Fairfield
Floyd Hall Arena - Little Falls
Foofie Poochies - Clifton
Gary's Pharmacy - Nutley
Gencarelli's - Lyndhurst
The GEORGE Montclair - donated by Steven Plofker and Bobbi Brown, owners
Goffin's Hallmark Shop - Rutherford
Great Adventure - Jackson
Great Clips - Carlstadt
Hair Loft Barbers - Nutley
Hand & Stone - Clifton
High SocieTea House - Wayne
Holly's Ice Cream Parlor - North Haledon
Il Classico Italian Deli - Fairfield
Jenkinson's Boardwalk Aquarium
Joe's Crab Shack - Clifton
Kenko Sushi - Lincoln Park
Kings Food Market - Verona
Lynn Konner
La Maison Salon & Spa - Short Hills
Le Petique Atelier - Rutherford
Learning Express Toy Store - Verona
M & G Pirogi - Clifton
Meadows Golf Club - Lincoln Park
Medieval Times - Lyndhurst
Micro Center - Paterson
Montclair Orchestra
Montclair Pet Girl
Morristown Performing Arts Center
Mr. Bruno's Pizzeria & Restaurant - Lyndhurst
Nature's Truth Vitamins
Nicolo's Italian Bakery and Deli - Montclair
Nicholas Markets Foodtown - Cedar Grove
NY Red Bulls Soccer
NY Giants
NY Jets
Original Pancake House - W. Caldwell
Paisano's Italian Restaurant - Rutherford
Panevino Ristorante - Livingston
Pasquale's Pizzeria - Little Falls
Pet Valu - Lyndhurst Town Center
Pet Valu - West Caldwell
Pinot's Palette - Nutley
Picaboo
Salon Valerie - Rutherford
Secret Seat
Seaton Hackney Stables - Morristown
Shannon Rose Irish Pub - Clifton
Shelter Helpers on Wheels - Parsippany
Shop Rite - Lincoln Park
Shop Rite - Wallington
Signature Fitness - Belleville
Spuntino Wine and Tapas Bar - Clifton
Starbucks - Livingston Circle
State Theatre New Jersey - New Brunswick
Stew Leonard's
Studio Players - Upper Montclair
Sulis Spa (Melandre's) - Nutley
Super Cuts - Lyndhurst
Suprema Café and Cucina - Rutherford
Texas Roadhouse - Teterboro
Tierney's Tavern - Montclair
Trader Joe's - Wayne
Trenton Thunder
Turkey Hill Dairy
Twin Willows Golf - Lincoln Park
Two River Theater - Red Bank
Turtle Back Zoo - West Orange
Varrelmann's Bake Shop - Rutherford
Wellmont Theater - Montclair
Willowbrook Golf Center - Wayne
Windmill Vitamins
Additional thanks to:
• Secret Seat for donating a free 30-day membership for each attendee.
• Texas Roadhouse for donating a free appetizer coupon for each attendee.
• Joe's Crab Shack in Clifton for donating a free appetizer coupon for each attendee.
---
---
Days at Petco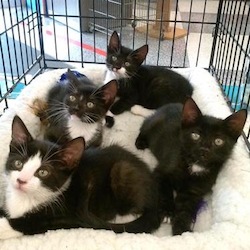 We have feline adoption days on Saturdays, at Petco, Verona and the Montclair Farmer's Market. Please check the event calendar for upcoming dates and times.
Private one-on-one appointments are welcomed, and easily scheduled. So come meet and sociaize with our cats and dogs. Contact us to arrange a meeting.