Pet Adoption in Montclair NJ for 44 years.
PAWS, (Pound Animal Welfare Society of Montclair, Inc.) is an animal rescue and shelter organization dedicated to the humane treatment of animals. We facilitate pet adoption for stray and abandoned cats and dogs in our community. Founded in 1977, PAWS has been serving The Township of Montclair, NJ and surrounding communities for over 44 years.
We are extremely proud of our pet adoption history.
PAWS has facilitated adoptions for vast number of animals over the years; successfully placing them with loving families. Many of these cats and dogs came from dire circumstances and were given another chance to share their lives with their new humans…
---
Brookdale Reformed Church
16 Bellevue Avenue, Bloomfield NJ 07003 map
Saturday, September 18, 2021
9:00 am – 3:00 pm – Rain or Shine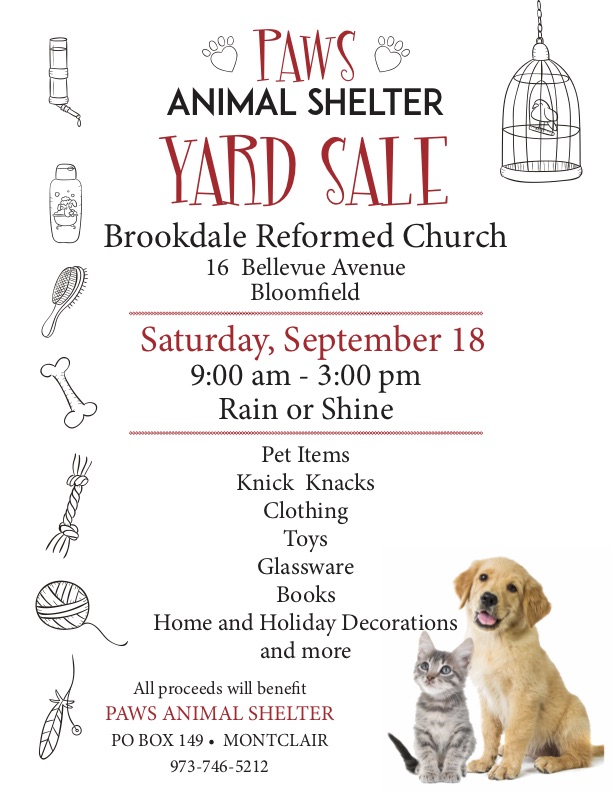 What a great event we had last weekend! It was a beautiful day, and brought in much needed funds. It was delightful to see so many of our supporters in person again, as well as many new faces who came out for a chance to win great prizes, cash, and shop for bargains.
THANK-YOU to the businesses and individuals who donated to this event and to the wonderful team of volunteers who put it together and ran it. We couldn't survive without you and feel so blessed to have you! ❤
---
Happy Tails – 2020

As 2020 draws to an end, we'd like to thank you for your support, and wish you and your family a wonderful holiday season. Thanks to you we are able to continue our mission to rescue and save many lives that would otherwise have been cut short in kill shelters…