Pet Adoption in Montclair NJ for 44 years.
PAWS, (Pound Animal Welfare Society of Montclair, Inc.) is an animal rescue and shelter organization dedicated to the humane treatment of animals.  We facilitate pet adoption for stray and abandoned cats and dogs in our community. Founded in 1977, PAWS has been serving The Township of Montclair, NJ and surrounding communities for over 44 years.
We are extremely proud of our pet adoption history.
PAWS has facilitated adoptions for vast number of animals over the years; successfully placing them with loving families. Many of these cats and dogs came from dire circumstances and were given another chance to share their lives with their new humans…
---
We're holding an outdoor, walk-through event!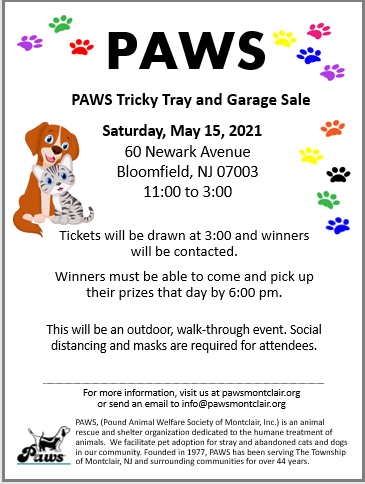 No admission – donations are appreciated
Saturday May 15
11:00Am – 3:00PM.
60 Newark Avenue Bloomfield, NJ 07003
Ample Street Parking
The PAWS tricky tray will include a selection of beautiful baskets, as well as gift items, and gift cards prizes, with more still coming in!
---
Happy Tails – 2020

As 2020 draws to an end, we'd like to thank you for your support, and wish you and your family a wonderful holiday season. Thanks to you we are able to continue our mission to rescue and save many lives that would otherwise have been cut short in kill shelters…