Pet Adoption in Montclair NJ for 41 years.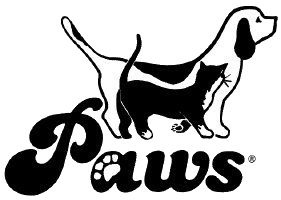 PAWS, (Pound Animal Welfare Society of Montclair, Inc.) is an animal rescue and shelter organization dedicated to the humane treatment of animals.  We facilitate pet adoption for stray and abandoned cats and dogs in our community. Founded in 1977, PAWS has been serving The Township of Montclair, NJ and surrounding communities for over 41 years.
We are extremely proud of our pet adoption history.
PAWS has facilitated adoptions for vast number of animals over the years; successfully placing them with loving families.  Many of these cats and dogs came from dire circumstances and were given another chance to share their lives with their new humans.
Large empty baskets needed

Time has flown by as usual. Our Tricky Tray is coming up in November. Our event organizers have started planning the the prizes.  They are in need large empty baskets, so if you have any you'd like to donate, please send  a message through the contact form,  or call (973) 746-5212 and we'll get back to you.

Click here for the full post

---

Essex Home Improvements Donations

In honoring Crash's legacy, Essex Home Improvements has generously offered to donate 10% of Vinyl Siding and Window jobs to PAWS. Please click on the image to see the flyer for full details.

Click here for the full post

---
Thank You to the following businesses and individuals for their generous program sponsorship for Guffaws for PAWS:

---

4Paws Pet Services LLC
A Speedy Sewer & Drain Service
Autoland
Joni Blanchard & Blanchard-Hiltz Family
Bridget A. Lang, DMD, LLC
Calandra Printing LLC
Sheila Caulfield & Family
CPAW NJ
Fontana Wealth Management
Gearty McIntyre LLP
Heartwood Enterprises LLC
Jennine and Mike
Klimback & Pontus Plumbing & Heating
Litwinka & Company LLP
Ron and Mary Mack
Mallor-Flahive Family
Morris Animal Inn
Clem Pizzi
Smart Paws Dog Training
Tony Pinho
Total Workout
West Caldwell Animal Hospital
West Essex Building Supply Co.

---

Thank You to the following businesses and individuals who generously contributed to the Guffaws for PAWS Basket Raffle:

---

Agway of Morristown
Brazen Athletics
Joni Blanchard & Blanchard-Hiltz Family
Sheila Caulfield
Ecsentually Natural - Rachel Feldman
Elite Nails
Flahive Family
Roberta Fisher
Shannon Gessler
Green Point Juicery - Organic Juice Bar
Marano Family
Debbie Parker
Mickie Roman & Shelter Helpers on Wheels
Salon "M" Hair Studio
Shelter Helpers on Wheels - Mickie Roman
Valerie Slamka
Tammi and Steve
The Theater Project

Click here for the full post

---
Swirls

Swirls was a semi feral kitten when our fosters took her. They spent time socializing her, but anytime a potential adopter came to see her she would hide.

Finally after more than 2 months in foster, a furever home was found. The fosters were too in love with her to let her go they kept her!!

Click here for the full post

---

Chanel and Bella

Chanel and Bella were being fostered together for more than 6 months.

Finally Chanel got a wonderful, loving home. A month later, the same adopter came back for Bella.

Click here for the full post

---
Adoption Days at Petco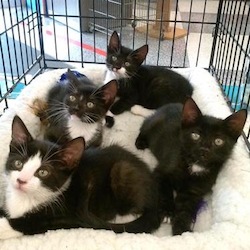 We have feline adoption days on Saturdays, at Petco, Verona and the Montclair Farmer's Market.  Please check the event calendar for upcoming dates and times.
Private one-on-one appointments are welcomed, and easily scheduled.  So come meet and sociaize with our cats and dogs. Contact us to arrange a meeting.