---
Pet Adoption in Montclair NJ for over 46 years.
PAWS, (Pound Animal Welfare Society of Montclair, Inc.) is an animal rescue and shelter organization dedicated to the humane treatment of animals. We facilitate pet adoption for stray and abandoned cats and dogs in our community. Founded in 1977, PAWS has been serving The Township of Montclair, NJ and surrounding communities for over 46 years.
We are extremely proud of our pet adoption history!
---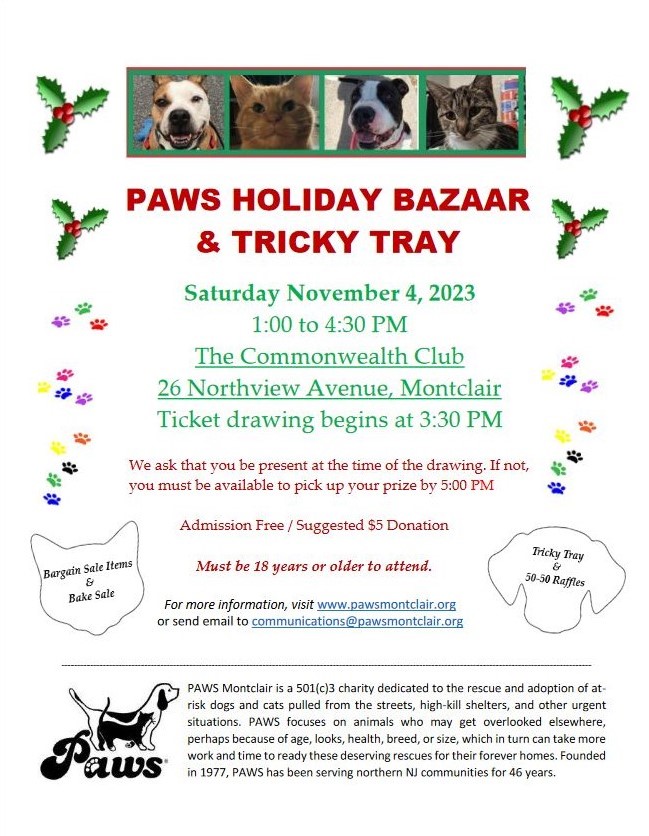 Have Items to Donate?
We are accepting donations for raffle and sale. Needed donations include:
Gift or Themed Baskets
Gift cards of any type – e.g., restaurants, spas and other services; stores and products; and straight cash cards.
Tickets – e.g., theater or other experiences
Individual items. Popular items include: tech, puzzles, knife sets and other kitchenware, housewares, designer handbags, watches, and gift sets.
We are accepting only New/Unused items for this event.
To donate, contact: [email protected]
Thank you!
---
---