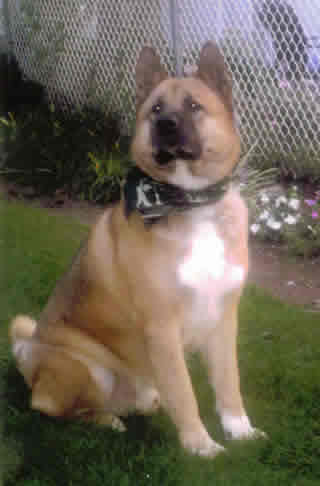 My husband & I had purchased our first home in 2000 and we knew one of the additions should be a dog. We knew we wanted to adopt. We searched Petfinder.com for a few months and finally came across Tokyo, who was located at the Montclair, NJ PAWS. We went to visit him and he was quite a wonder to see. Apparently he was used to fight pit bulls and even came into the shelter with blue spray paint all over him. The vet was taking excellent care of him. Well, Tokyo had his own room instead of a crate. We thought, he must be quite a handful to have his own room but later found out that he just doesn't like to be confined. We knew he was special & fell in love with him instantly!! We were suppose to go away the following weekend to see my Aunt in West Virginia, so we knew we had to wait to adopt.
He has been an amazing addition to our home. His personality is the just the best & he's the most patient dog I've seen. He is great with all our family & friends who come to visit. He actually enjoys when we have parties and get together's because he just loves having people around. He is great with kids and is so patient. He was lucky to be adopted but we were even luckier to find him.
I am glad we made the decision to adopt. PAWS was great to deal with and they made sure Bear (Tokyo) found the right home.
Thank you,
Nick and Amanda