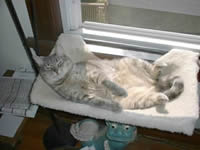 I visited PAWS on a rainy day in the early Spring of 1999 intending to adopt an orange tabby. When I entered the cat room, a high school student volunteer was there feeding and playing with the cats. I struck up a conversation with the student and asked about the personalities and temperament of some of the cats. He pointed out Jolly remarking that he's a great cat, shy at first but once he knows you he's really sweet. Of course Jolly was a gray tabby not orange.
I learned that Jolly came to PAWS with his sister Holly. They had been born and raised in a woodpile in a Montclair backyard before being brought to PAWS. Holly was adopted right away and was someone's cute Christmas present. This story and the volunteer's comments helped me to make my decision and Jolly left with me that day.
The next part was the most difficult – re-naming Jolly. Friends, family, and co-workers offered suggestions and forwarded baby naming web sites to me. It took about a week of observing him and getting familiar with him but finally it seemed obvious: Spencer.
Spencer is the most loving and affectionate cat I've had. He is a wonderful companion and loves to just hang out wherever the family is – morning, noon and night. He enjoys spending the day on our screen porch snoozing, smelling the breezes and watching the birds at the feeder.
Victoria