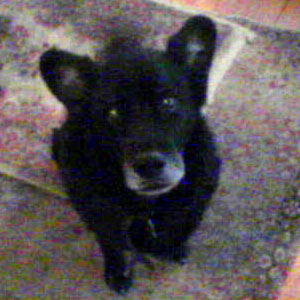 PAWS received an email from Zoe, Mickey's owner, telling us of Mickey's passing:
Fifteen years ago we adopted a puppy through your wonderful organization. This morning we had to send Mickey to the Rainbow Bridge. He was a great treasure in our lives and we will miss him terribly. Due to personal reasons (retirement, moving, etc) we are not able to take on another pet at this time, but I would like to donate some articles of Mickey's to you if you have a use for them. The crate you gave us when we got Mickey is old but serviceable, and we have some of his toys I think other dogs might like. I also have some leftover W/D prescription dog food, cans, which is a high quality food. I'm sure there are other things around the house–I will check your Wish List. Right now it's a little hard to think clearly. But the crate is fairly large and would not fit in one of your bins, I don't think, so is there another location I could drop it and the other items off.
Thank you very much for Mickey. I found him on the street near my home and brought him to you, then adopted him when the 7 day waiting period was up. It was the longest 7 days of my life…
And here's her story:
…After I brought Mickey down to PAWS in October of 1995, I went home and cried all night. I couldn't get his face out of my mind. My husband finally gave in and I went to pick him up the next morning, only to be told we had to wait 7 days in case his owner turned up. I knew he was abandoned; I had found him trying to get into cars beside Nishuane Park when I went to pick my son up after school. I passed him three times and ended up going back again and again and in the end sent a stranger to pick up my son so I could take Mickey to PAWS.
I truly think he was meant to come into our lives (believe me, on the 7th day I was counting the minutes till we could come back and claim him!). I have had dogs all my life and he was by far the most challenging–he had severe medical problems from the time he was poisoned as a puppy and I think all told he managed to bite 8 people, sending two to hospital, but he was the most loyal, loving, funny, crazy family dog anyone could have asked for. It's always the ";special"; ones that worm their way deepest into your heart. We are all walking around in floods of tears today.
His trainer's first words when he met him were, ";My God, he looks exactly like a fruit bat!";
He was a total Alpha dog, forty-five pounds of pure muscle, with a Corgi head, lab's body and tail, and Corgi legs. He was part Chow, too, and he had the black tongue, ruff, and triple coat, so he was constantly shedding. We always had to ask people, ";Are you a dog person?"; before they came to the house, because if you weren't, you'd be terrified of him. He got hepatitis from poisoning when he was 2 and a year later his thyroid shut down. At the end, he was on seven different meds, which just goes to show you what modern miracles chemistry can work. He was fairly active, pain free and had a tremendous appetite right to the end. This morning after his stroke when he was lying on a blanket in the bedroom as we were getting ready to take him to the vets, I fed him his favorite food, an orange, and he gobbled it down.
When I take an animal into my life, I take it for life. No options. There was a time when we thought we would have to get rid of him (after he sent the babysitter to hospital with puncture wounds right through her leg–and my motto was always IT IS NEVER THE DOG'S FAULT!–which really endeared me to the neighbors. LOL). I got all his things together and I was going to take him down to the vet to be put down, and stay with him till the end. No way would I ever have passed him on to anyone else–who knows what might have happened to him. Fortunately, it turned out okay and we were able to keep him after a short quarantine period. IT WAS NOT THE DOG'S FAULT. GRIN. The babysitter got between him and the kids, and then tried to roughhouse him from behind as she did with her own dog. Needless to say we never hired HER again.
I just can't imagine ever surrendering a family pet, for any reason, unless I had no choice. 🙁
Zoe Kharpertian