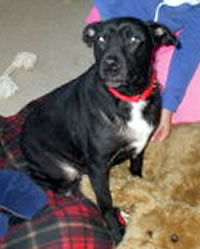 Foreclosures have been a huge reason people have had to give up their beloved pets. Starr's situation was such, and her owner was frantic to find a good place for Starr.
Luckily PAWS had an open spot at the sanctuary, so sweet, 5-year old unspayed Starr was surrendered to our care. We had her spayed and vetted by West Caldwell AH's Dr. Danci Mock, and it was discovered that Starr also suffered from a thyroid condition that required daily medication. We were able to move Starr into one of our new (at the time) foster homes where she received one-on-one care and attention. Her skin improved, her appetite slowly improved, and she was adopted by a great young couple and their two cats, and is leading a wonderful life.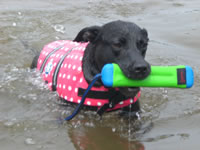 Hey Carole:
It was great seeing you at the vet today, and I am sure the peace of mind you got from seeing Starr doing so well was a reward in itself! I have enclosed a picture of us so Starr can get her fifteen minutes of fame on the Paws Website! Since we have adopted her, the cats have grown accustomed to their new companion and have started sharing Starr's water dish. No cuddling yet, and that may never happen, but everyone is well-adjusted to the large change that occurred when we adopted Starr.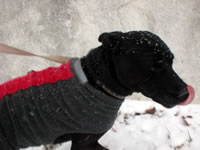 Starr loves going on hikes and hitting the lake for a swim! She is also an avid snowdog and loves bounding through fresh powder and skating along and frozen ice patches!
Her favorite toys are her squeaky and ropey. For some reason, anytime you put "-ey" on the end of a word (i.e. walkies, ropey) she gets excited! How she can tell the difference about what I am saying, I have no idea! As you saw in person, and of course as her picture will show, her nasty dandruff is all gone and her coat has fully grown in and taken on a nice luster! She maintains a steady weight at about 43 lbs and we have been diligent with her bloodwork and keeping up with her thyroid medicine. Overall, Starr is friendly and calm – but can get excited every once in a while! -Stephanie