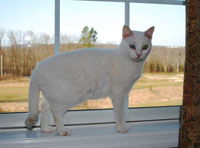 Hi Roseann:
Pickels (now Opal) is doing wonderful! It was amazing how fast she quickly adapted. She is such an easy going cat. She loves attention and we love giving it to her.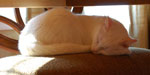 She loves sitting by the window and watching the birds. She often takes naps on the chair in the dining room. She goes crazy chasing a marble on the kitchen floor. We love having her and are so appreciate of you and your Mom for the love you gave her.
If you are ever in the area, feel free to stop by and visit her. We too think she's very special.
Sincerely, Robin