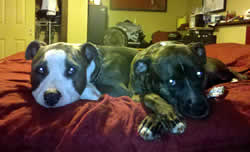 Amber (the brindle, top), a PAWS rescue, now in her forever home with her new "brother" Nero. This is one of the most heartwarming adoptions ever, as this girl was literally a day away from death.
A PAWS volunteer drove 100 miles to pick her up from a shelter in South Jersey and take her back to our sanctuary, where, after spending nine months with us, was spotted on our Petfinder site by a great couple who were looking for a friend for their pit bull.
After introductions went very well, Danielle and Jay opted to foster Amber just to be sure all would be okay.  Needless to say, PAWS was thrilled when we received the call that Amber would be permanently joining their family.  This is just one of the great photos we received…Thank you again to Danielle and Jay for adoptingAmber!!