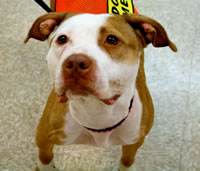 MITZI
Taken into a city shelter as a stray, Mitzi won the hearts of the staff and volunteers. A petite pit bull with soulful eyes and a real human connection, she bought herself time with her friendly and intelligent manner, and her ability to get along with other dogs. But time is often short at overcrowded facilities, and PAWS received notice of Mitzi's deterioration in the shelter. We took her in, and she proved to be every bit as wonderful as her advocates had told us.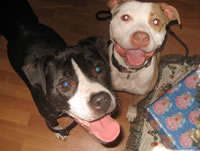 Shortly after she arrived, PAWS took in another pit mix from a NJ shelter named Fitz. He and Mitzi became fast friends, and for a couple of months they frolicked and spent "house time" together. Mitzi was spotted on the website by a young couple who were moving into their new home not far from the PAWS sanctuary space, They met and fell in love with her, and she was adopted shortly thereafter.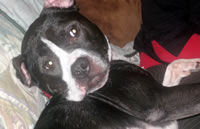 FITZ
Fitz had spent 7 months at another NJ shelter but was continually overlooked because he was rather shy and retiring in his kennel there. PAWS was asked to take him as his time was up, and what a terrific dog! He really enjoys the company of other dogs, and didn't have to spend much time alone after his best friend, Mitzi, went to her new home… PAWS received an inquiry about him from a family in central NJ who had two other rescue dogs, both spayed females. We took Fitz to meet the family, and it was a love match for everyone, dogs and humans. Fitz is one happy guy, with two canine "siblings" along with two cats and a rabbit to keep him entertained as well as a most loving, caring family.
Hi Carole, Fitz got a clean bill of health at the vet and is now micro chipped and on heart and tick prevention. Please let everyone know from PAWS he has adjusted to our home, animals and is a wonderful addition to family. He is a great dog and we are blessed to have him. I am forever grateful for you, Brianna and the PAWS organization. I will hopefully have some pictures on facebook very soon. Iwill let you know as soon as they are up. I just don't know where the time goes. Talk to you soon. -Donna