All you need is LOVE, but money for medical bills is important too.
In addition to our standard vetting of all animals, PAWS has a number of animals currently in our care who require some extra medical care. If you'd like to donate to our Valentine's Medical Fund, click below.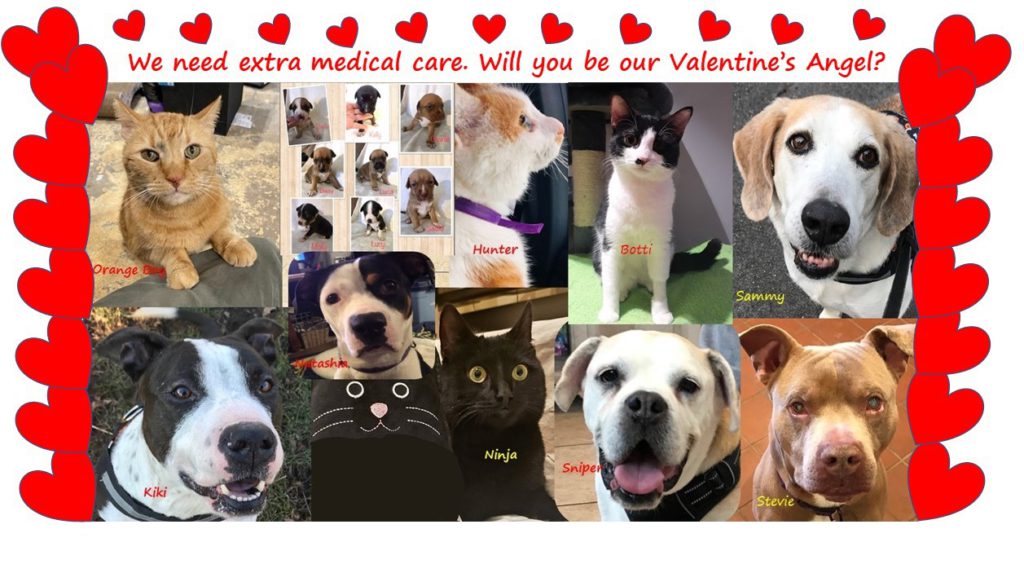 Here are the stories of the animals pictured:
Orange Boy, our senior male resident FIV positive kitty, has been struggling with chronic ear infections, often times leaving him very, sick, unstable on his feet and unable to eat. A large, growing polyp caused his condition to worsen. After exams and a procedure to remove it, he is feeling much better. Though benign, the polyp could not be totally removed and may grow back, but for now he is thriving.
Natasha & pups – mom will need spay and 11 puppies will need vaccinations and checkups. (photos of 8 of the 11 because 3 are pending adoption after vetting is complete.)
Hunter, a 4-year-old kitty, has severe hypertrophic cardiomyopathy. He has been hospitalized for almost a week in trying to get his condition under control. Unfortunately, his condition is fatal but it can be managed. We want to give him the best chance possible.
Botti is a 10-month-old kitten who was diagnosed with a severe liver shunt. After a full CT scan it was determined that his condition was not operable. It is manageable however, but will require numerous vet visits and possible emergency stays. He is an adorable kitten who deserves the best chance.
Sammy, a 10-year-old tree walker coonhound, needs ongoing heart worm treatment.
Kiki, a 7-year-old dog, was treated as a "throwaway mama." Because of her history, she requires a more intense surgery than the traditional spay. She also requires skin allergy treatment.
Ninja was found on the side of the road in Livingston, cold and alone. When PAWS took her in, we noticed she had a protruding bone by her hip. An X-ray revealed that she has a broken leg, with the leg bone detached from the socket. Thankfully, surgery can correct this injury, which was possibly caused by a car strike.
Sniper the bulldog mix is scheduled for an echocardiogram for his heart condition. He has a condition that will require monitoring by cardiologist about every 4 months
Stevie, approximately 6-8- year-old, is a vision-impaired dog who, currently has cataracts in both eyes causing him to be partially blind. He will need specialized care to determine the extent of his issue.