We're holding an outdoor, walk-through event!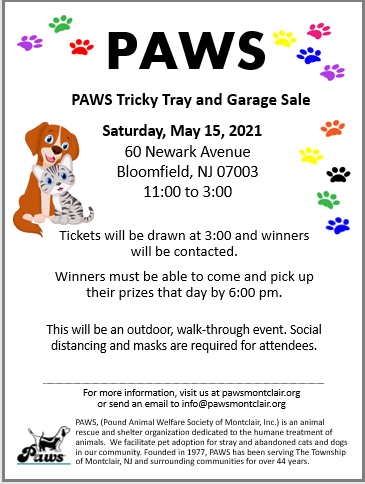 No admission – donations are appreciated
Saturday May 15
11:00Am – 3:00PM.
60 Newark Avenue Bloomfield, NJ 07003
Ample Street Parking
The PAWS tricky tray will include a selection of beautiful baskets, as well as gift items, and gift cards prizes, with more still coming in!
Paws Tricky Tray Items – Tier 1
Cat Basket from Pet Supplies Plus
Dog Basket from Pet Supplies Plus
Margarita Basket, Patron Silver Tequila, margarita mix, glasses
Baking Basket
Coffee Basket, includes Proctor Silex 4-Cup Coffee Maker
Wine Basket (red & white), Wine Glasses, Wine Charms
Romana Sambuca with 4 Glasses
Pinot Grigio Wine, Wine Glasses PLUS $10 Gift Card Gencarellis Restaurant, Lyndhurst
Campo Viejo Red Wine, Wine Glasses PLUS $20 Gift Card Suprema Restaurant, Rutherford
Waring Pro Professional Single Burner
Makeup Basket – Smashbox and Too Face products
Elegant Entertaining
Swimways Pool Float
Swimways Pool Float
Great Clips Basket (N. Arlington), includes $25 gift card and Biolage products
Hidden Treasure of Women's Toiletries
All you Need is Love and a Dog Basket PLUS $25 Petco gift card
Fun and Games Basket, Ages 4 and Up
Everything Dog Basket
Paws for Your Garden
Shiraleah Arden Tan Tote
Pixie Mood Zoe Vegan Leather Black Crossbody Bag
Oh Baby Basket
Kids' Basket of Fun, Ages 10 and Up
Women's Relaxation Basket
Estee Lauder Beautiful Perfume
Susan Graver Faceted Hoop Earrings
Chiardelli Basket
Dunkin Donuts Basket
Disney Basket
Make-up Case with Accessories PLUS $25 Kohls Gift Card
Applebee's Gift Card – Dinner for 2 (two winners)
Chevy's Lunch or Dinner for 2 up to $50 (two winners)
Romy Pet Sofa – Peacock
Surrey Pet Sofa – Pink (square sofa)
$50 Gift Certificate – Le Petique Atelier Pet Spa, Rutherford
$50 Gift Card Del Monico's Restaurant, Cedar Grove
$25 Petco Gift Card
$25 Burger King Gift Card
$25 PetSmart Gift Card
$25 Starbucks Gift Card
$25 Gift Card Piasano's Restaurant, Rutherford
$25 Gift Card Goffins Card Store, Rutherford
$25 Gift Card Varrelmann's Bake Shop, Rutherford
$30 Gift Card Arlington Diner PLUS $10 Gift Card The Stack Restaurant, N. Arlington
$20 Gift Card Boom Boom Chicken, Rutherford
$20 Gift Card Greek Town Gyros, Rutherford
Paws Tricky Tray Items – Tier 2
Kate Spade Medium Striped Canvas Satchel
Vince Camuto Litzy Leather Tote Bag in Tan
Vince Camuto Litzy Leather Tote Bag in Black
Lexy Black Shoulder Bag
Mia Black Shoulder Bag
Prairie Satchel Bag in Cognac
Rachel Zoe Arialith Bordeaux Faux Leather Tote – Vegan
Coach Oversized Beige Leather Tote Bag
Two Pixie Mood Cross Body Bags
Michael Kors Jet Set Signature Tan Canvas Medium Tote Bag
Day at the Spa Basket
Supercuts Hair Care Basket – Redken & Paul Mitchell products for men and women
Outdoor Grilling Basket
Everything Cat Basket – cat themed jewelry, coin purse, socks, carry on tote and a framed picture
Martini glasses and pitcher set with a bottle of Vodka
Chanel no 5. L'Eau
Michael Kors Woman's Watch
Michael Kors Men's Watch
Wentworth Pet Sofa – Brown
$50 Mastercard Gift Card PLUS $50 Amazon Gift Card
$100 Shop Rite Gift Card
5 Wits Adventures (West Nyack NY) – admission for 4 (donated by Schuyler School PTA)

Tricky Tray Tickets – can be purchased at the event
Tier 1 tickets $15 per sheet (26 tickets)

Tier 1 prizes $25 to $100

Tier 2 tickets $25 per sheet (26 tickets)

Tier 2 prizes $100 to $250
The garage sale offers great bargains on a variety of items so come and check it out.
50/50 raffle tickets can be purchased at the event – $2 per ticket or 3 for $5.
TICKETS WILL BE DRAWN AT 3:00 AND WINNERS WILL BE CONTACTED. WINNERS MUST BE ABLE TO COME AND PICK UP THEIR PRIZES THAT DAY BY 6:00 PM.
Social distancing and masks are required for attendees.
Please contact us if you would like to donate a gift card for our raffle.