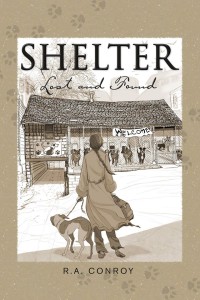 Award-winning filmmaker, R.A. Conroy releases a new novel: SHELTER – Lost and Found. Conroy is a gifted artist and animal advocate. She has combined her passions and created a brilliantly penned and wildly entertaining story. Watch for Conroy as she begins her West Coast tour. A portion of all proceeds will go to animal welfare organizations.
You can read the synopsis of the book here.
A printable order form can be found here.
10% of sales are donated to needy shelters.