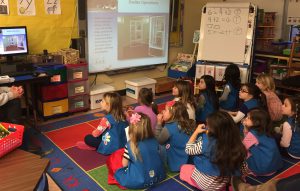 A big thank you to the Kindergarten Daisy Scouts Troop 20161
of Forest Avenue School, Glen Ridge, for the big box of Wish List Items each Daisy donated to PAWS from the proceeds of their cookie sale. Thanks also to their gracious Leader, Cara Sweet, for inviting us to speak to them about the work PAWS does.
The Daisy Scouts were a wonderful audience and PAWS thanks them again!