---
Pet Adoption in NJ for 37 years.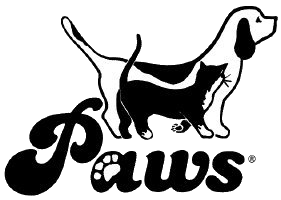 PAWS, (Pound Animal Welfare Society of Montclair, Inc.) is an animal rescue and shelter organization dedicated to the humane treatment of animals and facilitating pet adoption for stray and abandoned cats and dogs in our community. Founded in 1977, PAWS has been serving Montclair NJ and the surrounding communities for 37 years.
We are extremely proud of the number pet adoptions we have facilitated, and number of animals we have rescued over the years; successfully placing them with loving families.  Many of these cats and dogs came from dire circumstances and were given another chance to share their lives with their new humans…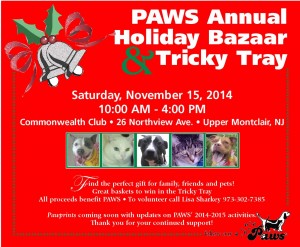 Find the perfect gift for family, friends & pets! Great baskets to win in Tricky Tray! All proceeds to benefit PAWS.
Saturday, November 15th, 2014
Commonwealth Club
26 NorthView Ave
Upper Montclair, NJ 07043
map
To volunteer call Lisa Sharky 973-302-7385
Click here for the post
---
A big, heartfelt thank you to volunteers Joni and Jennine Blanchard for representing PAWS at Mutts Mania in East Hanover this September!
They set up a great display booth, and featured an awesome dog basket donated by Agway of Morristown, along with selling tee shirts and collecting a generous amount of donation money for PAWS.
We are so appreciative of Joni and Jennine and family for their care and efforts toward finding our dogs great homes!
Click here for the post
---

Vote for PAWS Montclair (Pound Animal Welfare Society of Montclair, Inc.) - in the The Fantastic Fall Shelter Challenge.


About the shelter Challenge
The Shelter Challenge is an exciting opportunity for shelters in the U.S. and around the world.  The prizes offered during each challenge, both in grants and useful product, are specifically intended to benefit shelters in need.
But there's more to the Shelter Challenge than prizes alone.  The nature of the contest is intended to help shelters gather and mobilize support from their online communities, and highlight the excellent work that they are doing.  Over the years, we've found that building and reaching out to that community has been as important to shelter growth and support as the contest itself.
Because of this, we've tried to structure the contest in a way that helps this community to be more involved.  With story and photo contests that individuals can participate in on behalf of their shelters, recruitment tools to help individuals as well as shelters spread the word, and more, we hope to encourage and participate in that larger community of shelter supporters who can cheer no matter what shelter wins, knowing that in the end, it's not about the prizes or the popularity.  It's about the animals who need us.
That's why we're all here.
Click here for the post
---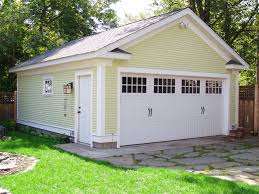 Garage or similar space to store items for PAWS Annual Holiday Bazaar.
We have been fortunate to have volunteer Doris's garage for several years, however she is moving and we must find an alternate space for storage of merchandise. Please contact us if you can help.
Click here for the post
---