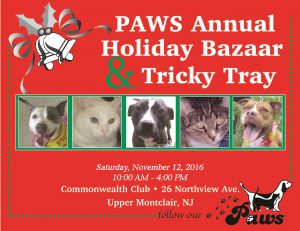 Our PAWS 2016 Holiday Bazaar will be held:
November 12, 2016
Commonwealth Club, 26 Northview Avenue in Upper Montclair, New Jersey     map
10 a.m. to 4 p.m.
We are looking for donations to help offset the cost of the bazaar. You can contribute any of the following items:
Tricky Tray Baskets
Home goods/gift items (gently used)
Gift Cards
Jewelry
Pet Gifts
Holiday items
You can also make a financial contribution:
Checks should be made out to PAWS Montclair and sent to:
PAWS Montclair, Inc.
P.O. Box 149
Montclair, New Jersey 07042
Online contributions can be made using secure checkout:

Use your Paypal account:  paypal.me/PAWSMontclair
Thanks to our supporters, the 2015 Bazaar cleared around $7,000. All those monies went toward the care of the many orphaned and abandoned cats and dogs that depend on PAWS to find them a permanent and loving home.
Any donation would be greatly appreciated. Thank you for your support.
Sincerely,
Lisa Sharkey               Email: [email protected]
Donna Petronella      Email: [email protected]
Co‐Chairs, PAWS Holiday Bazaar